Bodegas Pagola
We are a young and modern company,with history, tradition, and a vision for the future.
"Our objetive" :
Produce wines with respect and love of the vineyard.
"Our dream?" :
Come and Discover it…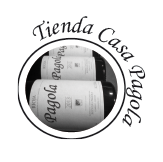 Casa Pagola
In 1935 the marriage formed by Carlos Pagola and Jesusa González de Mendivil founded a store where they sold a variety of products, among those they sold wines…
This business was located in the Guipuzcoan city of EIBAR until it closed permanently in 1980. Its commercial name was "CASA PAGOLA."
In 2013, 8 decades later, the founders´great-grandchildren use the original name… CELLARS PAGOLA is born.